Battery System Analyser LiFeP04 24V graphic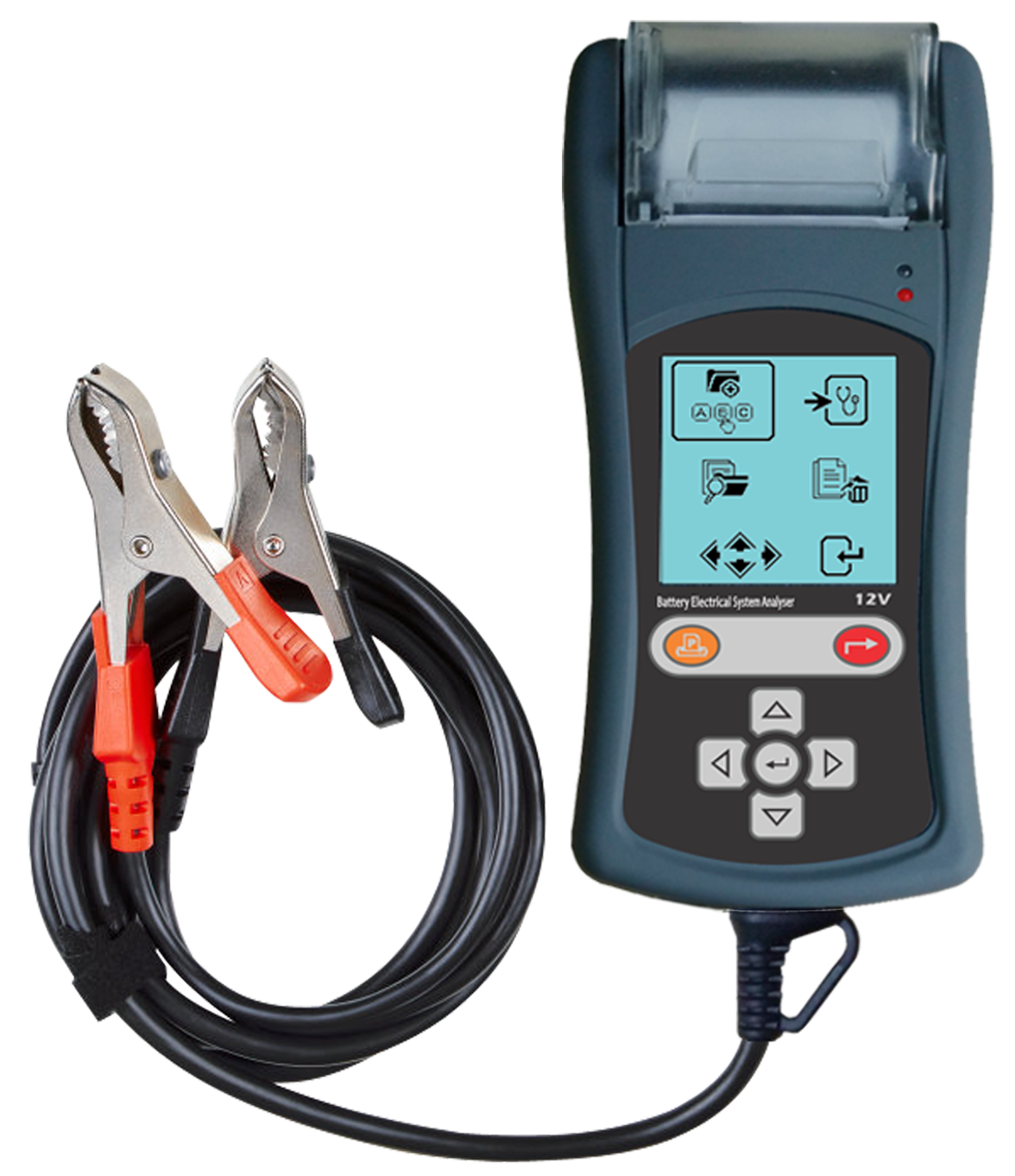 The Battery System Analyzer LiFeP04 24V graphic (BSAL24g) is a professional hand-held Battery and electrical system (Starter, Alternator and Grounding) tester with black & white graphics instructions, intended for aftermarket equipment distributors.
UNIQUENESS
· Fully graphics instruction- first in the world to utilize symbols no language, this solves language barrier, easy to understand without extensive knowledge
· Microprocessors-controlled testing method – draws little amp without draining it during the Battery tests.
· Tests 12V / 24V Starters, Standard (Normal) and Smart Alternators
· Starter (Cranking) and Alternator test results are displayed with graphical wave forms.
· Tests Alternator Diode Ripples to assess its functionality.
· Ground test – To check the engine to chassis ground is our very own invention, we are the only one in the world to have this feature.
· No internal battery- convenient for transport
CUSTOMIZATION
· Customer to decide on the following:
· Housing- shape, appearance or based on their corporate design
· Keypad- touch sensor, metallic dome and silicon rubber keypads, based on their corporate image, colour, logo, overlay etc.
· Printer – without or with printer (built in, detachable, Bluetooth)
· Cable- mounting, orientation, length (standard: 1.75 /3meter)
· Accessories- CD/USB key, printed handbook/ quick guide, CCA table chart
· Packaging - Branded colour box or neutral brown box
Test result option
· Comes with Detachable printer (optional)
FEATURES & FUNCTIONS
· Black & White LCD - 160 x 160 pixels display.
· Wake-up screen logo- show customer's logo when switch on.
· Workshop Detail - allows key in workshop information, contact details etc.
· Key-in Particulars - key-in customer name, battery Part Number or vehicle model as reference of the test
· Bar code scanner - scan barcodes on battery for validation purposes
Functions
· Voltage display – display battery voltage (battery State of Charge) once clamps to battery terminals
· 12V Battery Test - analyses the battery condition (State of Charge, Good, Need Recharge, measured CCA, Internal Resistance, Battery Life%)
· 12V/24V Starter Test - analyses the cranking effectiveness of battery to predict battery cranking failure
· 12V/24V Alternator Test - analyses alternator charging voltages on
Ø Normal/Smart Alternator
Ø Without Load @2500 ~ 3000 RPM
Ø With Load @ 1500 ~ 2000 RPM
Ø Diode Ripple Test within 0.5V
· 12V Grounding Test - analyses the condition of vehicles electrical return circuit contact resistance connected from battery to engine chassis (Note: Engine ground plays a very important role in ECU communication.)
SPECIFICATION
· Operating voltage - 9V~36V DC (Max)
· Analysing Capacity - Car: 100A~2000A, Motorcycle: 40A~600A
· Application: Car & Motorcycle
· Battery chemistry: WET (Flooded), AGM Flat, AGM Spiral, EFB and GEL
· Rating/Standard: SAE, CCA, EN1, EN2, DIN, IEC, JIS, UNKNOWN