Battery System Analyser LiFeP04 24V language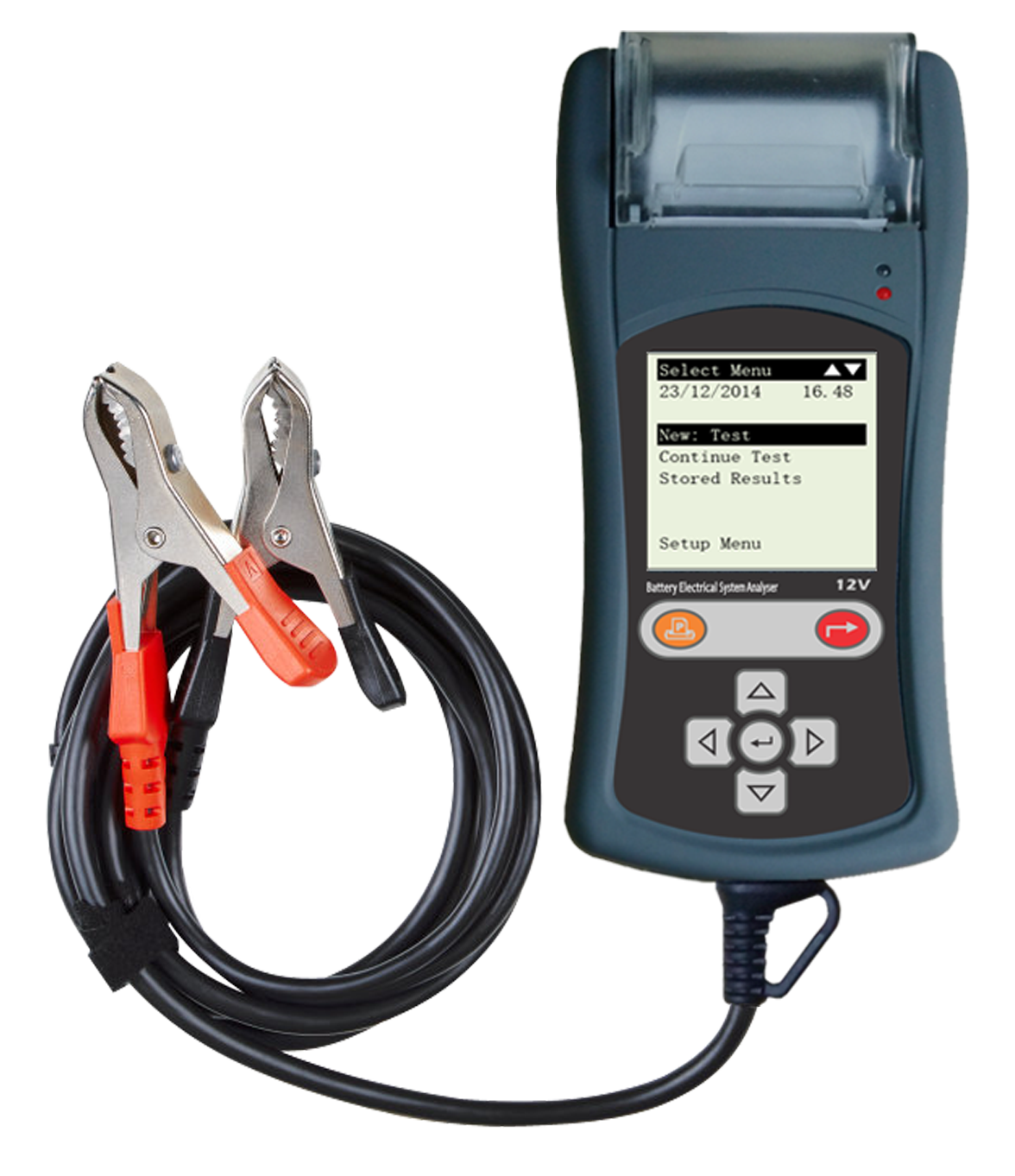 The Battery System Analyser LiFeP04 24V language (BSAL24l) comes with black & white display and multi-language (text) instructions which is customizable to customer's dialect based on the translation provided.
It tests the condition of 12V starter Batteries as well as the electrical system (Starter, Alternator and Grounding) of 12V and 24V vehicles.
It provides a quick, easy and affordable solution for technicians to check battery health and detect faults of starting and charging system.
UNIQUENESS
· Microprocessors-controlled testing method – draws little amp without draining the battery
· No internal battery- convenient for transport
· Tests 12V / 24V Starters, Standard (Normal) and Smart Alternators
· Starter (Cranking) and Alternator test results are displayed with graphical wave forms.
· Tests Alternator Diode Ripples to assess its functionality.
· Ground test – To check the engine to chassis ground is our very own invention, we are the only one in the world to have this feature.
CUSTOMIZATION
Customer to decide on the following:
· Housing- shape, appearance or based on their corporate design
· Keypad- touch sensor, metallic dome and silicon rubber keypads, based on their corporate image, colour, logo, overlay etc.
· Printer – without or with printer (built in, detachable, Bluetooth)
· Cable- mounting, orientation, length (standard: 1.75 /3meter)
· Accessories- CD/USB key, printed handbook/ quick guide, CCA chart
· Packaging - Branded colour box or neutral brown box
FEATURE
· Black & White LCD – 160 x 160 pixels display.
· Wake-up screen logo- show customer's logo when switch on.
· Instructions: Languages (Text) English, Spanish, German, French, Italian, Romanian, Polish, Swedish, Dutch, Finnish
Information input
· Workshop Detail - allows key in workshop information, contact details etc.
· Key-in Particulars - key-in customer name, battery Part Number or vehicle model as reference of the test
· Bar code scanner - scan barcodes on battery for validation purposes
Test result option
· Comes with Detachable printer (optional)
FUNCTION
· Voltage display – display battery voltage (battery State of Charge) once clamps to battery terminals
· 12V Battery Test - analyses the battery condition (State of Charge, Good, Need Recharge, measured CCA, Internal Resistance, Battery Life%)
· 12V/24V Starter Test - analyses the cranking effectiveness of battery to predict battery cranking failure
· 12V/24V Alternator Test - analyses alternator charging functionality
Normal/Smart Alternator
Without Load @3000~3500 RPM
With Load @2000~2500 RPM
Diode Ripple Test
SPECIFICATION
· Operating voltage - 9V~36V DC (max)
· Analysing Capacity - Car: 100A~2000A, Motorcycle: 40A~600A
· Application: Car & Motorcycle
· Battery chemistry: Test WET (Flooded), AGM Flat, AGM Spiral, EFB and GEL
· Battery Ratings: SAE, CCA, EN1, EN2, DIN, IEC, JIS, UNKNOWN